Top Search Engines In the UK by Market Share %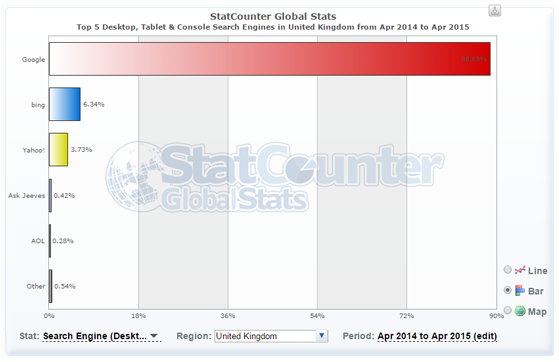 This 'how to' guide is a primer about
getting your small business website into Google, Yahoo and Bing….fast, and free.
Google is the main driver of traffic in the UK, and when it comes to submitting your site to thousands of search engines – well, don't bother, there are only a handful of players in the UK, and most partner with the top global search engines Google and Bing. Getting into search engines is one thing, ranking high in them is another story altogether.
How Do I Check If My Site Is In Google?
Just type your website address in the Google search box. If Google knows about your site, it will tell you. If your website doesn't come up as a result, you need to submit your site to Google. Another way to check if a page is in either of the search engines is to lift a piece of unique text from the page, put it in a search "in quotes". Your page should come up.
Consider also using the info: operator to see if Google knows about your page – e.g.
info:[You must be registered and logged in to see this link.]
or indeed any page from your website 
site:[You must be registered and logged in to see this link.]
(Bing too).
My site does not come up in search engines!
Search engines like Google need to find your website before it can crawl, index it, rate it and display it in it's listings (
SERPS
 - or 
S
earch 
E
ngine 
R
esults 
P
ages). Googlebot (the spider Google uses) accesses your page if it knows your website exists. This is perhaps the reason why your website doesn't come up in Google search. Google probably doesn't know about it.
Do I need to pay to get into Google and Bing?
No.
How Do You Submit A Site To Search Engines?
You do not need a seo to submit your site to Google, Yahoo or Bing. You don't pay to get into any of the big search engines natural (free or organic) listings (and note, Bing powers Yahoo results).
As I have said many times in the past, the best way to actually get into Google, and the other top search engines, is for the search engine spider to find your site through a link that is already on another website, which Google already has in it's index. A link from a blog, forum or other website will suffice.
What type of link do I need?
Any link from another website will do as long as Google
sees
it as a link (
[You must be registered and logged in to see this link.]
kills a link's juice BTW).
When it comes to links, think how relevant the page is you are wanting the link from to your website. Many seo think relevant links are very important in actual rankings…. for me, it's actually more important just to
[You must be registered and logged in to see this link.]
. That type of link will help Google trust your site more – and ranking high or even
[You must be registered and logged in to see this link.]
ultimately comes down to
[You must be registered and logged in to see this link.]
(the quality of websites that link to you). If you submit your website to cheap directories or buy links to get into Google, these links can
[You must be registered and logged in to see this link.]
in the future.
Will directory submission services help me get a website into search engines? 
You could of course think about
[You must be registered and logged in to see this link.]
like Yahoo or (if you can stand to wait years if you are unlucky) DMOZ. There are some good quality directories out there. A link in ONE OR TWO of these directories will probably get your site into search engines. Unfortunately, there is a LOT of low quality links you will probably stumble upon first, and these kind of links can quickly turn toxic. AVOID all low cost, cheap seo submission services.
In 2013, the truth is, you hardly even need a link for Google to find your website. Google (especially) WILL find your domain within days or weeks, and
if your website has unique content on it
– it will go into it's index quickly. It will probably rank high for a little while too, then drop down the rankings a bit – this is called the 'honeymoon period' by seo who've witnessed the phenomenon…. maybe it's to give you a taste of Google traffic.
Can I register website with google search engine direct?
Most of the most popular search engines in the world offer ways of submitting your webpages directly to them. I'd expect submitting your site through the following methods will certainly get you started:
Can social media sites get my site indexed by search engines?
Probably. If you do a lot of it. Google certainly spiders Twitter, Facebook (when it can) and Google Plus – and links on these websites often spread to other places –  so creating a profile on these websites sometimes works to help a website get into these search engines. I have also hear Bing spiders Facebook pages too (they have an agreement with FB). Social media links are often 'nofollowed', though, so they often do not count as a 'vote' to your website, so I would not rely on them.
How can I automatically get into Google?
You can ping Google (and other engines) using RSS or XML. If you have a blog, In the past, I've found registering a site with FEED BURNER is useful in happy, instant indexing of new content on a site. If your website publishes an
[You must be registered and logged in to see this link.]
, this is even better. It's amazing how fast Google indexes and ranks pages. I've seen pages get into Google and rank in the top ten for a phrase in less than 1 minute and I recently tested just how fast Google publishes your content if you're 
well connected
. WordPress, for example, pings Google when you post new content, which is very handy with a blogging system. Most modern open source content management systems of note do something like this. You can add your website direct to Google Webmaster Tools, too.
Google Webmaster Tools
At some point, to rank better in search engines, you are going to have to get other sites to link to it, so you may as well think about that first link on external sites. If you want to bypass all that, you can submit your website and verify it in GWT. The procedure is very simple with a little technical knowledge.
Avoid Paid/Free Search Engine Submission Tools and Services
I was talking to someone who recently paid a website submission company to submit their site to lots of different search engines. It's easy to forget many are ignorant to what seems, to the experienced, an obvious waste of money. I was looking at some free of the free search engine submission tools available and lots are simply lead generation tools to hoodwink you.
You put your website into the tool with your email, and this company has now been alerted you need seo services. If you're lucky, you'll only receive the odd unsolicited email. If you're unlucky, you've just been added to a spam list to be forever bombarded with low quality seo services, directory submission services, penguin proof link building strategies and emails telling you about undetectable link networks and the latest traffic exploding wordpress plugin.
Believe me, if you are being told about most of these services in an unsolicited manner – there's nothing private or undetectable about them. If you do use any of them – point those links at a minisite (and not your main site) because they wont last forever (if at all) and Google is getting serious penalising sites who buy and sell links using these services.
Search engine submission has not been a priority for most seo i mix with because they know the search engines that matter (and are relevant) do a good job of finding a new site by themselves – and there are many documented ways of getting a page into Google, Yahoo and Bing, for instance. You do not need any company to do this for you – for instance, there's pretty decent documented evidence (and observations made) that Google Plus can be helpful getting your site into Google.
You can submit your site to search engines yourself, for free, any time you want. Your site 
should
 be plugged into relevant search engine offerings (like Google Webmaster Tools and Bing Webmaster Tools, Google Places and Google Plus, for a start).
I don't ever recall a decent site not being indexed pretty quickly by all the main search engines, and that's without bothering even with the above services from the engines.
Invest your money instead in building the online reputation of your website and making your pages richer, and more relevant, and seek to keep people on your site, when you get them. Don't submit your website to sites where you do not know where the link will appear or you are probably in unnatural links territory.
You can use our
[You must be registered and logged in to see this link.]
to quickly audit your website and check against some seo best practices.
My website is not in Google WEEKS/MONTHS after submitting it
If your website is not in Google (at all) after a few weeks (or months) of doing the above on a few sites (don't spam), then something might be wrong. You can FETCH THE WEBSITE AS GOOGLE in Google webmaster tools to make sure everything is ok. If Google can access your site, you probably need to review your content and
[You must be registered and logged in to see this link.]
.
Now you've learned how to submit a website to search engines, the real fun begins!
Check out our
[You must be registered and logged in to see this link.]
here.
Find out
[You must be registered and logged in to see this link.]
, and the
[You must be registered and logged in to see this link.]
you should be using.
Why Submit Your Website to Google, Yahoo And Bing?
Getting listed in Google and the other popular search engines is one of the most effective ways of directing free (well unpaid), targeted traffic to your web site. You do NOT have to pay a penny to get into any of the major search engines so beware seo companies with unethical promises.
How Search Engines Determine Your Rank
Before you try to add your site to the search engines, you should understand what they look for when they decide how to rank your site. Just because you're listed doesn't mean you'll get traffic. You have to make sure your site is search engine ready or search engine friendly.
The general rule of thumb is that most engines use a "formula" to determine keyword relevancy and online reputation. The technical term is called an "algorithm", and each search engine has its own unique algorithm (s) that it uses to rank pages. Generally, this 'magic' formula consists of your page title, text content and the number and quality of links pointing back to your site, etc, etc. Some say Google uses over 200 signals to rank a page, all weighted differently, at any one time – and Google likes this flux. It's important to note that every engine is different. Some may look at
[You must be registered and logged in to see this link.]
, some may ignore them and just place emphasis on your body content. These days, most meta data is becoming less and less important, and often ignored.
Because of SPAM abuse, many search engines no longer use these tags to help rank pages, but you should still include them because they do use them to display information about your site. For example, whatever is inside the
[You must be registered and logged in to see this link.]
is often, but not always, the resource the search engine will use as the title of your page in the search results snippet. The easiest way to get into all the major search engines is to be linked to from a site that already appears in, for instance, Google and Yahoo and Bing, and social signals certainly play a part in discovery of new pages and sites.
Improving Your Rankings
There are a few ways I can think of of getting into Google, and improving your rankings. The best way to improve your rankings is to get a link from a reputable website to your website. Yes, that's all you need to do. Google likes finding new sites "itself", and it does this by spidering links from website to website, and eventually ranks pages on the quality and number of those links.
If you want to improve your rankings, try and get a link from an "authority" site in your industry, or exchange a few links with other businesses or suppliers in your line of work, perhaps not direct competitors. One link from a very well trusted site in your niche can improve how much trust Google has in your website, but they want you to create 'buzz' about your site, rather than build links in a mechanical fashion. Editorial links from media sites also still carry a lot of weight in 2014.
If you cannot think at all how to get a link you can add your site to Google directly, via the links above, or via Google Webmaster Tools, or Google Plus and Google Places.
Remember to know search engine rules, and if you are interested in 
[You must be registered and logged in to see this link.]
….
Fresh Content Boost
Don't worry about telling Google about new content on your site once your site is indexed. Google is very good at finding new content. Google loves fresh content, and if you publish lots of it on your blog, and it's of a decent quality,n Google will visit your site often, and rank your content for free.
A while back I tested what happens when publishing NEW content to a website already IN Google. I know (generally) what to expect but it's always good to have a peak every now and again. I use WordPress, RSS & Feedburner (pinging Google Blogsearch) to instantly syndicate the Hobo articles so I 
expect
 a few things to happen:


Get into Google serps in a few minutes

Dissappear for a while again

Come back into the serps & stabalise

Get Cached by Google

Rank

So how long did it take to index my new page when I pressed publish, and what happened to the page in SERPS:


My Feedreader (instantly - though there can be a delay sometimes)

Google Blog Search (15 minutes)

Google SERPS (30 minutes - so Google knows about it)

1 hour UK position 25

12 Hours later top 10 UK

Cache accessible within @18 hours, I can access it use using the info:command, but the cache is not available in the SERPS yet

A few days later Google dropped it from the SERPS as expected. Today it seems to be back on page 2 of Google.

During this period the page is not even returned in a site: command but it is using the page info:command.

This is all down to the way Google handles fresh up-to-date content – see 
[You must be registered and logged in to see this link.]
. If you get a handle on it, you see why a little online business authority
and
being first with the news is KEY to getting traffic out of Google. I've got 12,000 visits from Google alone in just over 24 hours fiddling with that – but you've got to be fast out of the traps. This is also why publishing fresh content on your site is seen to be such an important strategy for seo success.
Those rankings above stabilised n the first page, and longer term ranking success will ultimately depend a lot on the 'authority' or 'domain trust' of this site, the relevance of my page title, the content and over time, how well linked it is within this site (which a lot of people forget about) as I don't really expect too many incoming links to the page. Of course, rankings will also depend on how well 'optimised' the competition is for the term.
Note See here for more Geek stuff on 
[You must be registered and logged in to see this link.]
.
Google Local Business Results
Local seo rankings are powered (in part) by Google's local business directory, and can be improved by submitting your site to Google and telling them everything about your business. These are usually activated when there are searchers at a location near to your business. Basically – the most cited, most relevant and most trusted businesses in the local area are promoted tot he top of Google – sometimes in a 'local box' style listings, other times, merged into natural organic listings (as part of the VENICE algorithm).
Submit Your Site to Google Maps, Google Places for Business and Google+ Local
Google Local Business listings, now known as Google Places for Business and Google+ Local (leading to lots of confusion) get your business (and website) featured for various keyword phrases, ESPECIALLY in your local area, as well as your business name, including a map to your business and contact details.
It's FREE, so your crazy not to do it.
Optimising for Google Local Business Results
In my experience, giving Google as much information as possible about your business is just about the best policy. Get listed in as many local business directories as possible and encouraging positive reviews on your profiles all improves your standing in this index (which is different from the natural results, but often BLENDED with natural results, often if Google can detect your location).
Best Practices for Google Places (From Google)


Only business owners or authorized representatives may claim their business listings on Google Maps.

Use a shared, business email account, if multiple users will be updating your business listing.

If possible, use an email account with a domain that matches your business URL. For example, if your business website is [You must be registered and logged in to see this link.] a matching email address would be [You must be registered and logged in to see this link.].

The business name on Google Maps must be your full legal business name.

Do not attempt to manipulate search results by adding extraneous keywords or a description of your business into the business name.

Do not include phone numbers or URLs in the business name.

The address should look exactly the way you'd write it on a paper mailing envelope. If your business services several areas, you can create one listing under a PO Box.

Do not create listings at locations where the business does not physically exist.

PO Boxes do not count as physical locations.

Do not create more than one listing for each business location, either in a single account or multiple accounts.

Businesses that operate in a service area as opposed to a single location should not create a listing for every city they service. Service area businesses should create one listing for the central office of the business only.

Businesses with special services, such as law firms and doctors, should not create multiple listings to cover all of their specialties.

The precise address for the business must be provided in place of broad city names or cross-streets.

A property for rent is not considered a place of business. Please create one listing for the central office that processes the rentals.

Provide a phone number that connects to your individual business location as directly as possible. For example, you should provide an individual location phone number in place of a call center.

Do not provide phone numbers or URLs that redirect or 'refer' users to other landing pages or phone numbers other than those of the actual business.

Provide one URL that best identifies your individual business location.

Do not provide URLs that redirect or 'refer' users to other landing pages or phone numbers other than those of the actual business.

Use the description and custom attribute fields to include additional information about your listing. This type of content should never appear in your business's title, address or category fields.

Please see this page of the LBC User Guide for examples of acceptable custom attributes.

If you are a small business or a brand new business just starting out, you should claim your listing – it's 100% free and gives you a measure of increased visibility on Google if folks are 
looking for your type of business in your area
. Here's a link to more information on Google Places for Business 
[You must be registered and logged in to see this link.]
 and Google Plus 
[You must be registered and logged in to see this link.]
‎. Google will very probably be using it's own products to find new pages (and that includes the Chrome browser and maybe even Gmail.)